Home Remodeling Customer Reviews
For Edgebrook Construction
Read what customers are saying about us on Angie's List:
Bathroom:

They completely did a bathroom remodel for us. They came in and corrected a past company's mistakes. They did the whole bathroom including the ceiling, crown molding, tile, toilet, sink. The price was very fair, excellent in fact. They are meticulous and very professional, will use them again in the future.
-- Laurie, Chicago
Bathroom:
Removal of walk in shower base, re-tile base, and entire garden tub deck, re-grout floor and replace glass shower enclosure. Also fix drywall and trim from leak. Bill was responsive, very fast, constantly checked in and ensured quality. Price was reasonable and he ensured all our questions were answered. He also made tile and grout suggestions that were as good as decorators'.
-- Kristi, Chicago
Bathroom, Living Room, Kitchen:
Repaired living room molding and painted. Edgebrook has also redone my bathroom and kitchen. I called Bill on Thursday he agreed to have someone come in on Monday. Finished job That day. He was wonderful in remodeling my bathroom and kitchen.
-- Louis, Chicago
Entryway/Basement Bar:
Bill and his crew first rehabed our front exterior entrance along with reparing the hallway stair railing. Nice job and at a fair price. Being happy with the work, we asked for an estimate on installing a drop ceiling and some lighting installation in our basement. Bill was very helpful with suggestions and guidance and we ended up not only doing the ceiling but also remodeling our basement bar. They tiled the counters, installed new plumbing, put in oak trim and mounted a long mirror with hidden lighting that looks great. Bill was able to show us computer generated images of what the end product would look like and this was helpful in our decision making process. All through the project I was delighted with Bill's responsiveness to our requests and his knack for thinking of different solutions and switching gears on the fly to accomodate us. He thought of touches and details that value added to the eventual solutions and seemed to anticipate our needs at times. Of particular note is the craftsmanship level of his carpenter, Patrick. Looking at the tilework and the trim miter joints, it is obvious that this man takes his craft seriously. And the Edgebrook Construction crew was here early every day and working hard throughout to complete the project on time (which they did).
-- Dave, Chicago
Kitchen and Bathroom:
Remodeled kitchen and are doing bathrooms now. They are doing a good job. Good contractor - trustworthy. On time. Very happy with them.
-- Catherine, Chicago
Bathroom:
They were fantastic! Conscientious, meticulous, careful, thoughtful, you name it, they were it. At one point, I was lost without another bathroom and they rigged up a temporary sing and mirror just to make things work. They were not willing to cut corners on the mechanicals. You would not believe their tile cuts. They were extremely responsive and came in dead on budget. No overruns. They were the lowest of three estimates, so I was a bit worried, but I worried for naught.

-- Kathleen, Wilmette
Bedroom and Bathroom:
Gutted and completely remodeled on bathroom. Replastered and painted one bedroom and installed new closet doors. Workers were consistently excellent, neat, on time and very polite for the three weeks it took to complete this work. Bill Kolodziej, the owner, was a pleasure to deal with: kept in good touch and was very responsive to my calls.
-- Barbara, South Shore
Painting:
High marks for a job well done. Edgebrook Construction did a clean job painting my house and I can not say enough good things about them. Not even one drop of paint on my carpet or furniture. I highly recommend them for painting.
-- Meris, Chicago
Living Room:
Our living room floor was sagging due to structural damage/deterioration. The house has a crawl space, about 12 inches deep, and the living room is positioned directly over the crawl space. The middle of the room had actually sunk by as much as 3 inches. the floor had separated from the baseboards, and if you'd place a ball near a perimeter wall, the ball would roll to the center of the room. It was embarrassing and agonizing to look at. We really didnt know who to call - a well rounded construction crew or a crawlspace company. So we called both. We decided to use Edgebrook Construction. They came bright and early as scheduled and began to cut open the subfloor. An area of about 10 feet by 4 feet was removed exposing the joists and the open crawl space below. Just below the joist was a large timber spanning the length of the room and supporting the joists. Upon close inspection, Bill the owner of Edgebrook showed us two hairline cracks which breached the strength of the beam causing it, and the joists, and the floor resting on it to sag. Bill and his crew jacked up the beam to a level position with hydraulic jacks which closed all the gaps where the baseboard separated from the floor. Then, they strategically placed concrete footings along the length of the beam to ensure no more sagging would occur. The jacks were lowered, the subfloor was replaced and... well it was a beautiful job indeed. Beautiful, neat, flawless!! The crew worked with precision and finess! These guys are the real deal. Simple, straight forward, and effective! I highly recommend them, and will use them again!!
-- Brian, South Holland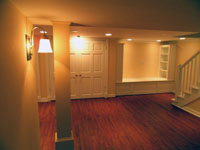 Kitchen, Wood Floors, and Basement:
I stopped and saw the house today. It looks spectacular. Thank you for your efficiency, your attention to detail, the quality of your workmanship, and the fairness of your billing. I think the house will sell now. I also own a smaller house, and I will need some help with both my full and half baths as well as a possible rebuild of the back porch. I will contact you next year about this. Thanks again
--Phylis, Chicago
Family Room, Laudry Room, and Two Bathrooms:
Edgebrook demolished my family room and two bathrooms and a portion of the sub-basement and reconstructed them including new ceilings and walls, recessed lighting, and moulding. They installed cabinetry, shelving and tile and performed plumbing and electrical services. Work performed in detail- Sub-basement: Demolished old shelving, installed new block glass windows and fluorescent lighting and painted walls. Family room: Demolished room, drywalled walls and ceiling, added insulation, installed recessed lighting and moulding, installed wall cabinetry including door/drawer hardware, reconfigured two closets and installed shelving, wired for a light fixture and painted walls and ceiling. Guest bath: Demolished room, drywalled walls and ceiling, installed recessed lighting and moulding, installed toilet, vanity and hardware accessories, tiled floor, put decorative tile on one wall along with a mirror and painted walls and ceiling. Laundry room: Demolished room, drywalled walls and ceiling, installed recessed lighting and moulding, laid vinyl flooring, constructed a sorting table and drying rack, installed cabinetry and shelving, reconfigured drying vent and painted walls and ceiling. Master bath: Demolished room, drywalled walls (including green board) and ceiling, installed recessed lighting and moulding, installed cultured marble solid surface components in the shower along with two corner caddies and new lighting, installed toilet, vanity and hardware accessories, tiled floor, installed medicine cabinet and painted walls and ceiling. Miscellaneous: Installed 3 exterior storm and entry doors, installed ceiling fans in 3 bedrooms and repaired an interior stair rail. It went very well. Bill Kolodziej, the owner, is a pleasure to deal with. He was extremely helpful both with design ideas and suggestions for vendors. The pricing does not include most of the cabinetry and fixtures which I was responsible for purchasing. It also does not include carpet and countertop instalIation. It does include the demolition, lighting, construction materials (from drywall, etc. to shelving and canned lights), paint and, of course, labor. Before beginning the project, we clarified who would purchase what. We talked daily so I knew what would happen each day and worked together to coordinate my purchases and delivery schedule. His staff was on time, careful of my premises and cleaned up daily. Mistakes were minimal and dealt with immediately. Staff also worked continuously from the beginning of the project to the end without gaps for work on other projects.
--Elayne, Skokie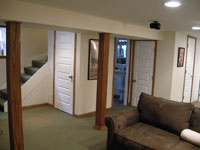 Bath, Laundry room, Basement, Office:
In a semi-finished basement added a full bath, relocated washer/dryer to new built laundry room (plus new venting), removed old double tub sink and added new single tub sink to laundry room, added four closets, added one built in shelf, and added one open shelf area (finished by customer). Later (after construction start) we added a new room to the work scope to serve as our home office which required moving some doors, rewiring lighting in entire basement, and walling off a tool area to create a tool room. All told construction added one bath, one office, a tool room, and a small laundry area... Edgebrook came recommended by neighbors and we were very satisfied. They were very accommodating and completed the work to our specifications when other contractors told us that the job needed to be layed out completely differently. Edgebrook also kept in mind the goals of this project as a basement bath which didn't require luxury hardware and appliances. They made realistic suggestions and didn't have a problem accepting plans draw up by a family architect. I would recommend them to those who need to maximize small places yet remain flexible.
--Kevin, Elmhurst
Reviews:
See more Reviews on Angie's List
Project Awards
General Contractor:
First Place Small Kitchen ASID 2009 Best Chicago bungalow interior renovation Driehaus Foundation 2006
Associations:
Edgebrook Chamber of Commerce Chicago Historic Bungalow Association